Penilla IP Offices - Located in the Heart of Silicon Valley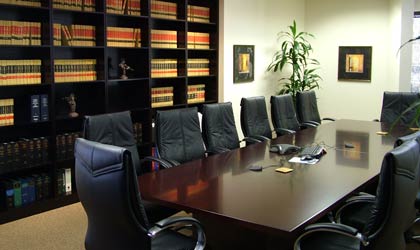 Our central location is key to our ability to conduct in-person interviews throughout the Silicon Valley. As a benefit of our location, we don't charge for travel expenses, thus allowing us to pass on the savings to our clients.
Due to our technology-centric operation, our client base is not limited to the US and we routinely handle cases for clients throughout the US, Asia and Europe.
We are well invested in the latest technology for the efficient preparation of patents and prosecution of patents with the USPTO and patent offices throughout the world.
Law Practice Innovations
In line with the innovators we serve, our firm attorneys with the help of programming professionals, developed a dynamic docketing system to handle special aspects of case file automation and tracking. As this technology was not available off-the-shelf, the firm invested in the R&D and roll-out of its own patent-pending docketing system, also known as Remote Access Database and Automated Reminders (RADAR).
RADAR provides a secure Internet interface that is designed to provide authorized users, such as firm clients and firm employees, access to current case status information. Authorized users are provided with the capability of quickly generating customized reports, identifying upcoming action items, and information regarding responsible attorneys. Internally, RADAR is also designed to provide responsible attorneys assigned to particular cases E-mail action item reminders, completed reminder letters and daily tracking of due dates.
Full Service Systems
Penilla IP is committed to investment in the latest law firm systems, tools and procedures. We believe that innovative processing of our patent prosecution work flow translates into higher quality work product and also translates into time savings that can be passed on to our clients. An example of our efforts to this end include our daily use of the of the following systems and tools:
Dynamic Docketing System and Internet Client Access
Integration of large and small network scanners
Large network copiers
Integrated secure file systems
Secure and redundant data storage
Encryption processes for email communications
USPTO Electronic Filing Procedures and Systems
Document handling and assembly stations
Daily document couriers for International Filings
Alliances with Prior Art Searching firms
A team of in-house and outside drawing draftsmen
International PCT and Foreign Filing software programs
Our networks and file sharing infrastructures are also continuously updated, to maintain the highest level of security.
Most importantly, our Internet Client Access portal provides clients with on-demand access to their case information on a 24/7 basis.This translates into a huge cost savings to clients that must manage a complex portfolio of cases, each having its own set of deadlines.